Things to Do in Flagstaff, Arizona's Hidden Gem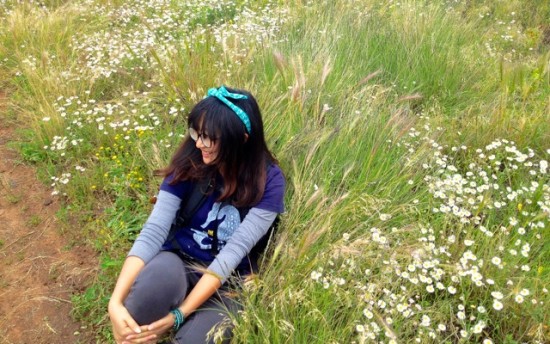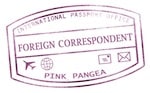 Whenever I introduce people to my school, I feel proud to show them, Flagstaff, this beautiful mountain town.
Flagstaff is located in northern Arizona. For three years, I have been studying here. I fell in love with it at the first sight, and I still do not get tired of this place. Since this is my last year living here, my heart is filled with a feeling of nostalgia. But at this moment, I'd love to share stories about my beloved second hometown.
Flagstaff is gorgeous all year-round. Spring often comes late. Even in March and April, some places are still covered with ice. It still snows in early May. The summer is the best season to visit Flagstaff, since it is a great place to avoid the summer heat and the scenery is stunning. It rains almost every day, but only lasts for a short time. After the rain, you can see the rainbows across the sky, and breathe in the fresh air. In the wintertime, heavy snow frequently visits this city. It can be annoying for some people, but for me, I feel the snow is simply pure and beautiful. In the freezing cold and snowy days, there are no people on the streets, and Flagstaff seems isolated from the rest of the world.
When I am riding my bike back home, I like to look up at this vast sky. Both the lonely moon and the starry night give me a strong sense of homesickness.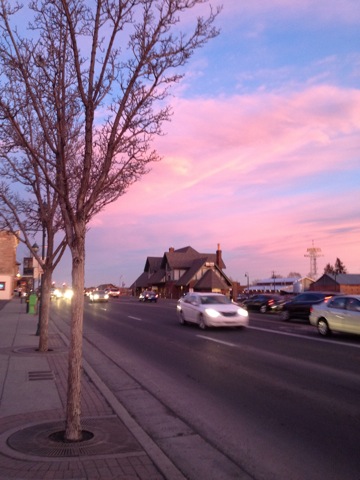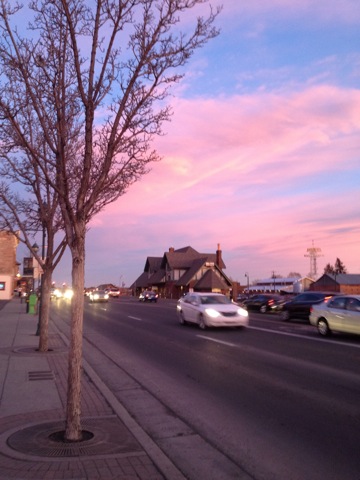 Flagstaff's Sky

When my friend from Los Angeles came to visit me, he was impressed with Flagstaff's beautiful sky and asked me if the sky was always like this. I am amazed by Flagstaff's sky almost every day. Especially during sunset, no words can describe how beautiful the sky is. At first the sky is red. Gradually the sky turns into the color of dreamlike pink, then purple, followed by a hazy moon.
Then numerous stars will come, which makes the dark sky look incredible. Street lamps are dim orange color and good for watching stars. After some late study nights, when I am riding my bike back home, I like to look up at this vast sky. Both the lonely moon and the starry night give me a strong sense of loneliness and homesickness.
Downtown Flagstaff

Even though downtown Flagstaff is quite small, it is crammed with boutique stores, art galleries, cafés, restaurants, hotels, and bars. It is wonderful to spend a leisurely afternoon wandering around this historic district. One can discover the creative and cute stores, appreciate Native American art and handcrafts at the galleries, stop by a cozy coffee shop, and have a good meal at a downtown restaurant. At nighttime, one can also savor the good quality craft beer at a bar and listen to great live music by the local artists.
For the first Friday of every month, people will gather downtown and participate in the ArtWalk event. At this time, stores will be open late. People walk around the streets, visit many art exhibitions, and enjoy performances and live music. Stores will prepare snacks, hot chocolate, and wine for the customers. The owners of the boutique stores take this opportunity to by sell their products and customers can find good prices.
During sunset, no words can describe how beautiful the sky is. At first the sky is red. Gradually the sky turns into the color of dreamlike pink, then purple, followed by a hazy moon.
My favorite store is called Puchteca Indian Goods. I don't usually buy things, but I just appreciate the turquoise and silver jewelry. The owner of the store, Steve, is a very friendly and knowledgeable man. He tells me the story behind each piece of artwork. The name of the store comes from an ancient tribe called Puchteca, which was in the art business a thousand years ago. Steve was a hippie in his youth, studied anthropology at Northern Arizona University, and was married to an American Indian girl. I guess that is the reason why he has a passion for American Indian art. After he graduated from the university, he opened this art store.
There are a variety of colorful Hopi dolls in the store. Steve told me that Hopis used animal images to make dolls, such as a mountain lion, an eagle, a bear, a bee, a lizard and so on. There is a popular image of men with different facial colors. He told me the image is called Ya-I, which is the Navajo's spirit (Healing Man). They have red, blue, white, and black faces. If people get sick, they will ask different spirits for help.
For dining, I have many favorite restaurants. Even though I am not a big fan of burgers, the Diablo veggie burger is very tasty and fresh. My favorite coffeehouse is Macy's, the oldest café in Flagstaff. Home-like decorations, rich aroma of coffee, relaxed music, and tasty pastries provide me with a good spot for hanging out with friends, studying or just simply people watching.
Another new tea house that recently opened this year in the downtown area is called Steep – Leaf Lounge. Many of their teas are imported from China and other Asian countries. The freshly brewed leaf tea makes me feel right at home.
The symbol of downtown Flagstaff is the Amtrak station. Everyday more than 100 trains pass through Flagstaff. For tourists, it is interesting to watch the trains passing, and they can't stop taking pictures. For local residents, the train takes forever to pass, and they feel impatient while waiting. The famous Route 66 also runs through Flagstaff.
On New Year's Eve, Flagstaff celebrates with the traditional pinecone drop. People gather around the Weatherford Hotel and watch a metallic pinecone drop from the roof at 12 o'clock midnight. The tradition originated in 1999, and it has become a special way to celebrate the New Year.
Flagstaff: Paradise for Outdoor Lovers

There are many places to ride your bike. I bought a red second-hand bike three years ago. At that time, I only thought it would be convenient to ride to school. However, I often ride with my friends during the weekends. We bike on the Flagstaff Urban Trails or ride to the Buffalo Park. In summer and fall, Buffalo Park is covered with yellow wildflowers.
Humphrey's Peak is the highest point in Arizona. It is about 11 miles north of Flagstaff. The trail is hard, since it is very rocky and steep. It is 4.5 miles in one direction, and takes six to seven hours to hike. It is always chilly and windy near the summit of the mountain.
When I finally made it to the top of Humphrey's Peak, I felt a sense of accomplishment. The view from the top is spectacular and it is definitely worth the effort. Autumn is the best season to go, when the aspen trees are turning yellow, with the contrast to the perfectly blue sky.
Many people just pass by Flagstaff to see the Grand Canyon, but I recommend you to stay one or two days and experience this western town. Some may see Flagstaff as a boring, small city. While the bars in downtown are bustling, the rest of the places are shrouded in darkness. Some people cannot stand the quietness of this town and say it does not have any entertainment at all. Even at first glance, one might not see the charms of Flagstaff, although you may soon discover that there are many hidden gems. These include ones that I have not yet even discovered but hope to in my last year's stay.