Quarantine in Madrid: What it's Really Like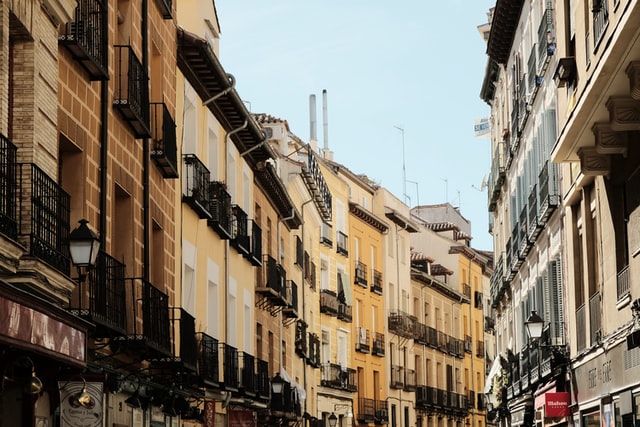 I've lived in Madrid since September 2018. I'd always dreamt of living in Europe, so one day I did some research, found a teaching program that provided me with a visa and made it happen. So far, it's been amazing. Spanish culture is wonderful, and reconnecting with my roots in this way has been amazing. People here are very social. There's a really big emphasis on spending time outside, whether just to take a stroll, experience cultural activities or spend time with friends eating and drinking.
After school, I work freelance online, so it's been a great push for me to get out and meet people outside of my work environment. That said, I'm used to and very much OK with spending time alone, as long as I can still communicate with the outside world. Still, I wasn't prepared for being under quarantine in Madrid.
Spanish people, in general, have a harder time with this concept. Generally, their culture is based on social activity and being outdoors. They don't spend much time inside the house and the binge-watch culture is still fairly new here. Let's just say, the course of events the week of March 9 was a big shock to the system.
On the evening of March 9, the President of the Autonomous Community of Madrid held a press conference to say that the Coronavirus situation was becoming dangerous and that schools would close beginning for two weeks from March 11. My roommates found out about this before I did, and blew up my WhatsApp with all kinds of questions, theories and concerns. I didn't receive any official word from anyone until I asked my boss what the deal was. All he could say was that we were still to report to school Tuesday, March 10.
The school was in a frenzy the following day. I walked into the teachers' room, usually a quiet place to sit and prep, to several hysterical teachers, asking questions and coming up with their own theories as to what was about to happen. The government hadn't said anything; all any of us had was the information from the Monday-evening press conference. The Principal and Vice Principals had made calls and were told to wait: information would come later in the day. We were supposed to resume our classes and prep the students for the following weeks.
Generally, Spanish culture is based on social activity and being outdoors. They don't spend much time inside the house.
My school is a middle and high school that also hosts community college courses. Several students didn't bother coming to school, but those who did were mini versions of the hysterical teachers. The 11-year-olds were so excited to finally have 12-hour-long PlayStation marathon games and be able to sleep in. The high schoolers went into a panic over exams, grades, and what this meant for their language immersion trips this spring. Nobody had any answers.
Ten or so minutes before the end of the school day, the Government of Madrid sent out a press release explaining how we were to handle the next two weeks. The entire school system was to go online, with students staying home and teachers coming to school. Individual schools could decide whether to send teachers home, which ours did. With basically zero guidance. It was chaos.
March 11, that same chaos started to reverberate around businesses in Madrid, as cases began to pop up in big organizations. By the end of the day, most large companies had sent employees to work from home, people began panic buying at grocery stores, and anyone who hadn't received word from their employer speculated over what was going to happen. My three Spanish roommates were freaking out, talking for hours about their predictions on how this situation would develop.
I didn't think staying indoors would be difficult. If I were alone, it wouldn't be.
March 13 was the last straw. The Spanish Government finally spoke up and went into the process of setting down official policies for our quarantine. Insane numbers of people started fleeing Madrid for their hometowns or country houses, viewing this as a kind of forced vacation.
Two of my roommates went to their hometown, which was both irresponsible and a Godsend. Most people are attributing the spread of the virus throughout Spain to those who left Madrid, taking it with them wherever they went. Had my two roommates stayed, though, I think we would have completely lost our minds by now. (And yes, they all agree.)
As I'm writing this, it's day nine of my quarantine and day seven for my roommate who stayed. We live in a small apartment without a balcony or patio, and our building doesn't have a rooftop terrace. There's not a lot of room, and it has gotten very crowded. The first few days were particularly difficult. I had lots of online work to do and she had absolutely nothing to do. She moved in on March 1, so we still don't know each other very well.
I quickly realized how extroverted she is, requiring constant communication and activity all day. I also realized how heavily I relied on my time spent outside of the house. Even though about half my work is from home, I still spend half of my days outside, either at school or going for long walks to nearby parks. I didn't think staying indoors would be difficult. If I were alone, it wouldn't be.
Day 8 of my quarantine seems to have been my breaking point.
Day 8 of my quarantine seems to have been my breaking point. I felt smothered and claustrophobic having to share my space with someone else for 24 hours a day, and for an endless number of days. I barely left my room, practiced yoga and listened to music in bed for hours. I cried three times and could physically feel the tension leave my body after my third cry. I'm sure it's the first of many to come.
Theoretically, Spain is supposed to be quarantined until March 26. At the rate things are going, the general feeling is that this will last through the end of April, if not longer. I'm doing my best to prepare for the long haul, practicing yoga every other day, being patient with my roommate (and our drastically different personalities) and keeping something of a regular sleep schedule. I've made a list of things to do during the quarantine, and make daily to-do lists to help me stay organized and productive.
This time has made so many things clear to me now, and I just hope to be able to use what I'm learning when it's all over.
Read more about what it's like living under quarantine in Israel and Italy. Photo for Quarantine in Madrid: What it's Really Like by Unsplash.