How To See Portland, Oregon During the Pandemic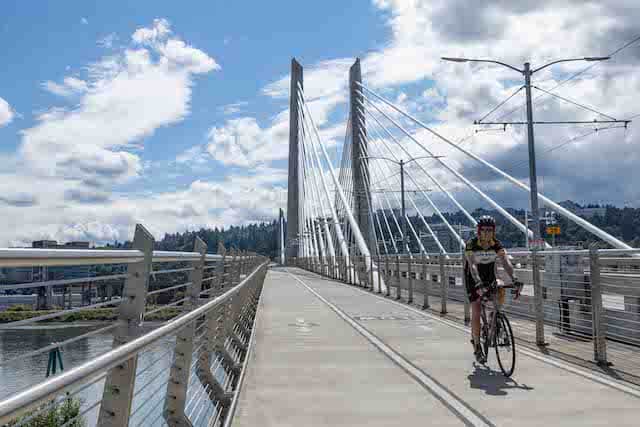 Facing the reality of life with COVID-19 impacting travel, my trip cancellations through the end of this year are like dominoes toppling successively. Reluctant to get on an airplane, I took a realistic look at what travel could be accomplished with all the restrictions.
Before the coronavirus hit, I had planned an intricate and exciting California Coastal road trip on the way to our family vacation home in the Pacific Northwest. At the foot of Mt. Hood in the Oregon Cascades, we enjoy the four seasons and the climate change from our mild weather in Southern California.
Instead of the leisurely 10-day road trip up the coast, we opted for a 16-hour, 1,100-mile one-day drive through the seemingly never-ending San Joaquin Valley. We didn't know what to expect with the pandemic closures, so we limited our exposure as best we could.
After reaching our destination and resting up a bit, we drove into Portland to see the pandemic and protests' effects first-hand.
How To See Portland, Oregon During the Pandemic
Downtown
Downtown Portland is experiencing significantly less vehicular and foot traffic these days. Glass frontages of the businesses at street level are boarded up because of the protesters and looters. This situation is at a crisis level, and I wouldn't feel safe being alone on the streets even during the day, let alone at night.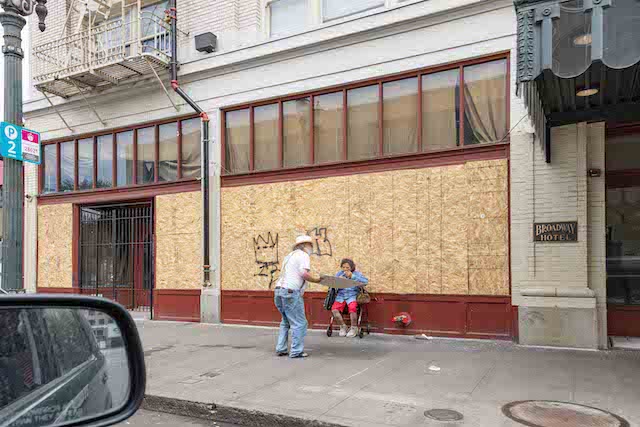 The homeless population has grown to epic proportions. Tents pitched in underpasses, parks, behind businesses, and people sleeping in doorways as soon as the shop closes for the night makes the once quirky and eclectic city unattractive.
Powell's Books is always a place I visit when I am in town. The bustling lobby and exciting people are great for people watching while you decide which section of the store to concentrate your search. The sheer number of books in their full city-block location is awe-inspiring. The Burnside location is closed right now due to the pandemic, but you can still order online.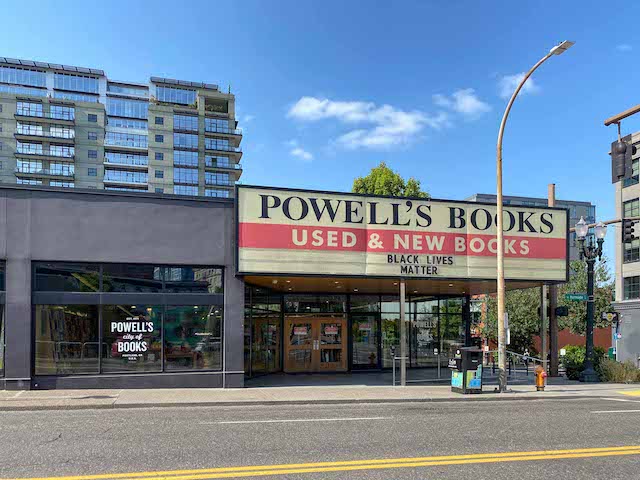 You can easily visit the World's Smallest Park at the corner of SW Taylor and SW Naito Parkway by pressing the street crossing signal. Mill Ends Park, a tiny urban park, only two feet across, was initially meant to hold a light pole in 1948. The pole was never installed, and weeds took over the space.
The Oregon Journal columnist, Dick Fagan, whose office overlooked the minuscule park, planted flowers in the hole and named it after his newspaper column. Some leprechaun shenanigans transpired over the years, people have decorated it for the seasons, they cared for it, and it became an official city park in 1976.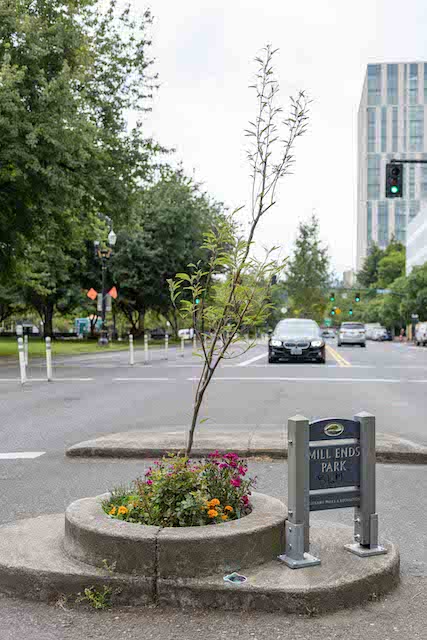 Public Transportation
It is easy and convenient to reach any part of Portland if you arrive by plane at Portland International Airport and want to take public transportation. The TriMet train is directly outside of PDX Arrivals and Departures and frequently runs to the station where you can quickly transfer to other lines. There is seldom a wait for one of two trains in that station. As soon as one pulls out, another is arriving or is already in the station.
Public transportation is the best I've seen in an urban area in the United States. I used to enjoy taking the bus to the train to the streetcar to the tram and just riding around town solely for the experience. Social distancing has put the kibosh on that activity.
Biketown is an accessible and practical solution to transportation, and stations are found all over Portland. Bicycle travel is encouraged with extra-wide and well-marked lanes throughout the city. Many environmentally-conscious residents eschew motor vehicles altogether and choose to live in specially designed buildings and neighborhoods with no parking lots or garages and within proximity to TriMet stations. Also, some employees enjoy extra benefits if they ride their bicycles to work.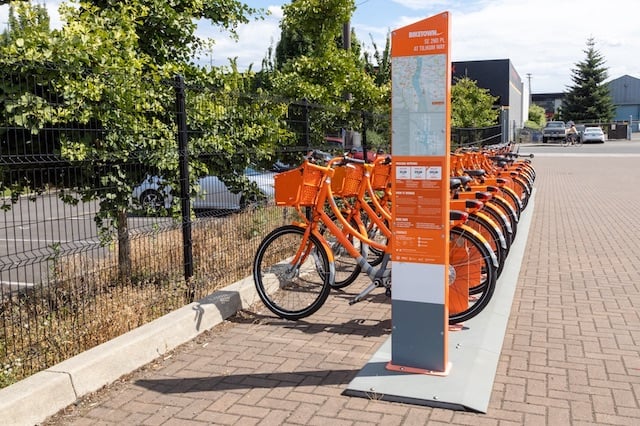 The Bridges
Tilikum Crossing is the newest of the twelve bridges connecting the city over the Willamette River. The bridge is dedicated to pedestrians, bicycles, and public transportation. With a new bus, train, and bicycle hub at either end, it also connects to the aerial tram, which ascends Marquam Hill to Oregon Health & Sciences University (OHSU), connecting Southeast Portland, South Waterfront, and Downtown.
The Portland Aerial Tram is limited to essential travel only to OHSU due to COVID-19.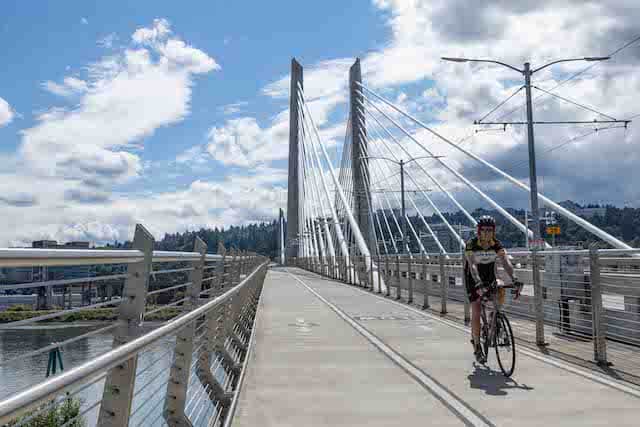 Sellwood Bridge, connecting Southeast Portland to Milwaukee on the Southwest, has convenient street parking under the bridge to put your Stand Up Paddleboard into the water. The day I was there was rather cool and overcast – not a favorable time to be on the water. However, it made for easy paddle boarding because powerboats were not plying the Willamette River and causing wakes for the board enthusiasts to deal with. It presented an excellent opportunity for social distancing and no need to wear face masks.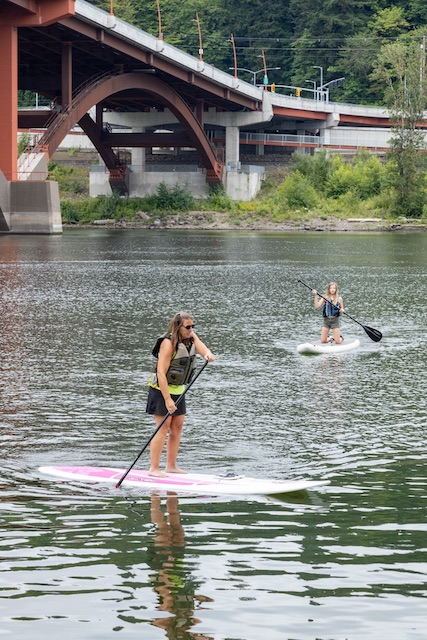 The striking gothic-style St. Johns Bridge spans the Willamette River on the north side of Portland. Cathedral Park, under the bridge, is a popular meeting place with convenient street parking and a parking lot at the east entrance. Unfortunately, it is marred by a homeless encampment at that entrance and painted stanchions to hide graffiti.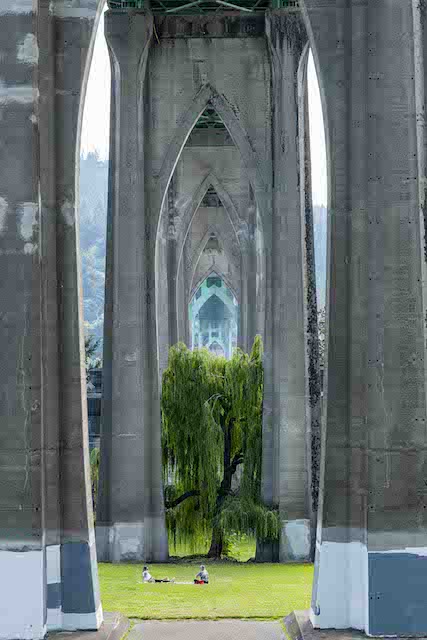 Dining
It's hard to get a bad meal in Portland. One of our favorite Vietnamese restaurants, Tom Yum, is located in the Woodstock area of Southeast Portland. They only offer take-away service at the moment. Their meals are always consistent, authentic, and tasty. You can order your dishes with low, medium, or hotly spiced. A couple of standard recipes are the wonton soup in delectable broth and the basil rice with chicken. You can't leave without trying the pad Thai.
I look forward to dining in again because the service is fast and friendly.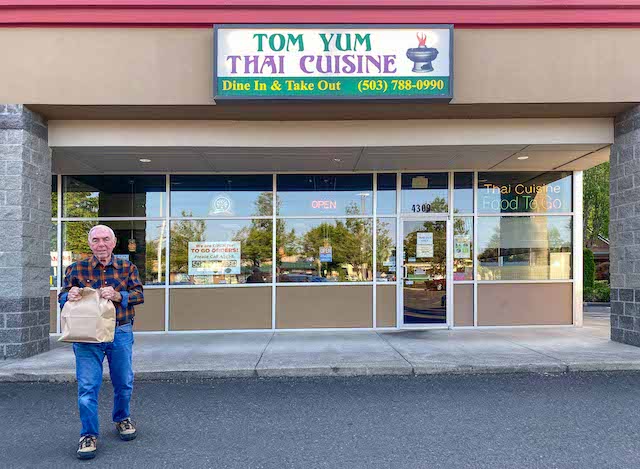 The ever-popular Salt & Straw, with four locations throughout Portland, began as a food cart on Alberta Street (where this photo was captured). They also offer home delivery throughout the U.S. and have locations in Los Angeles, San Diego, the Bay Area, Seattle, and Anaheim.
Imagine licking Freckled Mint with TCHO Chocolate Chip, or  Salted, Malted, Chocolate Chip Cookie Dough. What about sinking your teeth into Goat Cheese Marionberry Habanero?
Obviously, inside tastings are not allowed during this pandemic, but they are taking orders at the door.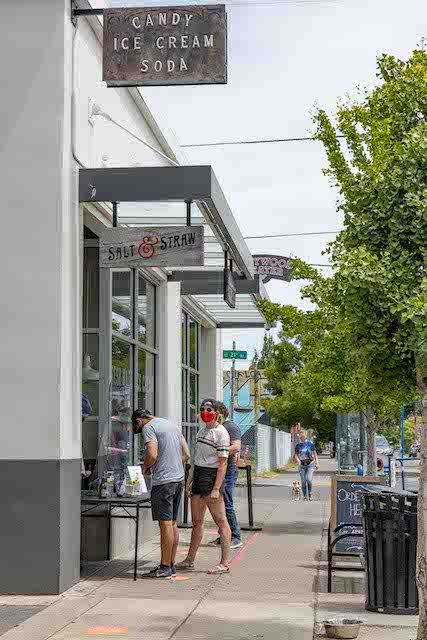 Tea Chai Té serves up tea in several loose-leaf blends. Famous for their colorful caboose seating at the Sellwood location in Southeast Portland closed now because of COVID-19, they are open and taking orders at the front door.
Bubble tea is a fun drink with exotic, colorful ingredients that are uniquely shaped that becomes a work of art in a glass. The front courtyard is marked for social distancing, and the picnic tables are closed to everyone. However, just around the corner on the side of the building, you'll find two available picnic tables.
Have you had Bubble Tea? Milk Bubble teas, Fruit Bubble teas, Sweet Treats, Kombucha, and seemingly countless tea blends round out their menu. I didn't know what to order my first time there, so I ordered what the staff recommended, and I wasn't disappointed.
Tea Chai Té currently has two locations open at NW 23rd and in Sellwood. The Burnside location in Downtown is temporarily closed. They offer online ordering for pickup at the front door.
Conclusion
While once a vibrant and charming city, Downtown Portland has lost its appeal. It will be a while before she recovers. However, the surrounding areas of Northeast, Southeast, Southwest, and Northwest Portland all have terrific things to offer in sports, entertainment, sights, and dining. Businesses are opening up on a limited or take-away basis.
Like your hometown, wearing face masks, washing your hands, and not touching your face is the same. Be cautious and travel well prepared.
Photo credits for How To See Portland, Oregon During the Pandemic by Julie Diebolt Price.