Four Flights in a Pandemic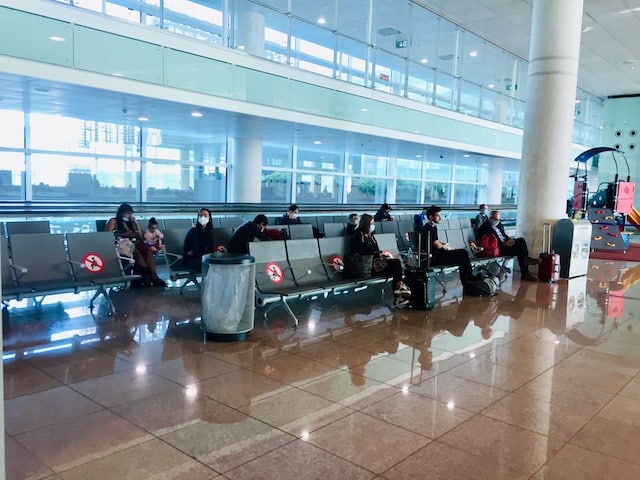 I stepped up to the black tape haphazardly affixed to the airport floor to have my temperature checked by a person in a full-on hazmat suit holding a contactless thermometer.
The scene easily could have been extracted from a science fiction movie about astronauts undergoing health checks before boarding a space shuttle to another galaxy. But instead of my own space suit, I donned only a surgical mask and gloves, unsure of whether I was prepared enough to travel amid a border-less contagion that seemed to have traveled faster than any Airbus or Boeing could. 
This was the start of a four-flight trek from my home abroad in Barcelona to a small-town airport in Virginia in the middle of June 2020. My choice to travel during this turbulent time of widespread COVID-19 outbreaks and uncertainty of where and when the next infestation would take place was not an easy one; the simple luxury of being able to travel back home to the States to see loved ones nagged me with guilt, especially because it was for non-essential reasons. But after months of lockdown and with the world still scrambling to devise a solution, or at least a temporary treatment, I considered this change of scenery to be essential for my mental health. Plus, my therapist gave me her blessing.
My employer had been offering free COVID-19 testing prior to my departure and I had signed up to take advantage of it, but due to the unreliability of the tests and the fact that I would come into contact with dozens of people and would pass through multiple airports before reaching my final destination, I ruled out the tests as a futile attempt at assurance.
I had prepped my personal item and carry-on with beyond what was necessary: antibacterial wipes, plenty of masks to change between flights, and enough hand sanitizer and tissues for an around-the-world expedition. Aware of the risk I was taking, I took every precaution and applied a dose of anal retention to each of my four pre-flight routines.
Airport #1 was my home airport: Barcelona–El Prat.
Airport #1 was my home airport: Barcelona–El Prat. Getting through security took about the same amount of time as a normal flight, mainly because I seem to perpetually choose the line behind someone who I can only assume is traveling for the first time in his life and therefore forgets to empty his pockets or tries to get through with a full Evian bottle.
Post-security, I rode the escalator down to Terminal 1, which is typically abuzz with shoppers in Natura, Zara, Desigual, and the Barcelona football store, but this morning was more akin to an arrival for a 6 a.m. flight, when everything in the airport was still closed. I gathered from the 20-plus person line at the central café that it would be the only open concession option for the few gates that were actively boarding passengers. I contemplated grabbing a café con leche for my first flight but opted to skip the line and wait until Airport #2 in Paris.
The closure of most gates in Terminal 1 and the complete closure of Terminal 2 in the wake of the pandemic meant that travelers had no choice but to sit and wait for their flights in one arm of the airport. Every other seat in the rows of airport seats was blocked off with yellow tape, preventing two people from sitting directly next to each other.
Earlier that week, the airline had sent an e-mail noting that face masks would be required when boarding and throughout the flight. A glance around the gates of T1 convinced me that other airlines must have done the same as every traveler I saw was wearing a surgical mask. As boarding time neared, three people in full white outer space–like suits approached the gate and stood ready and waiting. A semi-socially distanced line started to form.
When it was my turn, I stepped just beyond the tape on the airport floor to another line where a one of the attendants in coveralls held a contactless thermometer just above my forehead. At the third strip of tape, my passport was inspected and I scanned my mobile boarding pass via my Smartphone, just as I had always done. At this point, not much about the boarding process was different except for the inability to see others' faces in full.
Fellow passengers passed me, possibly labeling me as neurotic traveler who was overdoing it, but I, in turn, wondered why more people weren't doing what I was doing.
My personal boarding process was lengthened slightly due to my rigorous wiping-down of my assigned window seat with an antibacterial wipe. I had chosen the window seat (1) because I prefer a place where I can rest my head to attempt a nap and (2) because it would distance me from people passing in the aisle and therefore limit the amount of shared air I would be exposed to. Before buckling in, my gloved hands took out a wipe and wiped the seat belt, the buckles, the arm rests, the tray table, the window shade, and the air vent above me, which I opened to allow a steady breeze to circulate above and around me, potentially pushing any germs out of my air space. Fellow passengers passed me, possibly labeling me as neurotic traveler who was overdoing it, but I, in turn, wondered why more people weren't doing what I was doing. I was also the only passenger I saw that was wearing gloves. Am I overdoing it?
"Boarding complete," the captain said. I propped my forearms on the disinfected arm rests to lift myself a few inches out of my seat so I could see the rows in front of and behind me. Most rows of three had an empty middle seat, aside from a few that I assumed were duos or trios of people traveling together. A wave of comfort washed over me in knowing that, at least on this first flight, the airline seemed to be taking this seriously.
Airport #2 was Charles de Gaulle in Paris.
Airport #2 was Charles de Gaulle in Paris, one that I hadn't spent much time in since I had studied abroad in Paris nearly 15 years ago. Passport control stamped my passport as I left the European Union, and beyond the security gates I noticed some of France's major fashion brands like Chanel, Givenchy, and Dior open and ready for shoppers, all with hand-sanitizing stations out front. A Relay convenience store was also open for passengers who wanted to grab snacks, magazines, books, or souvenirs before their next flight.
With two hours to go until my flight to New York's JFK Airport, I settled into a seat in the 70s-era terminal for a few bites of one of my three pre-made sandwiches that I had shoved into my personal item. I wasn't sure how much food (if any) would be served on these flights, so I leaned into my Type A preparedness and packed enough food for two days of travel. Across from me sat a man, probably in his 20s, also snacking and scrolling through his Smartphone.
This pandemic was affecting all corners of the world, but I was quickly seeing that the human reaction was an individual one.
If we hadn't been in the middle of a pandemic, I would have thought he was trying to get the most out of his Halloween costume, which was either an astronaut or Walter White in a meth lab from "Breaking Bad". Even his shoes were covered with their own version of white coveralls. This pandemic was affecting all corners of the world, but I was quickly seeing that the human reaction was an individual one.
Boarding begin for the flight from CDG to New York's JFK Airport, and the same-ish procedure began: a contactless temperature scan of the forehead, a glance at the passport, and a self-scan of a boarding pass. I stowed my carry-on and spotted my window seat in the third corral of seats.
Rows in front of me and next to me were empty and stayed that way through boarding. I heard two women sit behind me, prompting me to move forward one row. I figured the farther away I was from other passengers, the better. Boarding ended and there were probably more empty seats than occupied seats throughout the entire plane. I had three seats to myself, and I disinfected all of them.
Once we reached our cruising altitude, the seatbelt sign switched off and I moved to the middle seat, buckled the middle seat belt, and laid down on my side, stretching across all three empty seats. I was able to fall asleep quickly, feeling safe in my distance from others. So far, flying during a pandemic had been a breeze.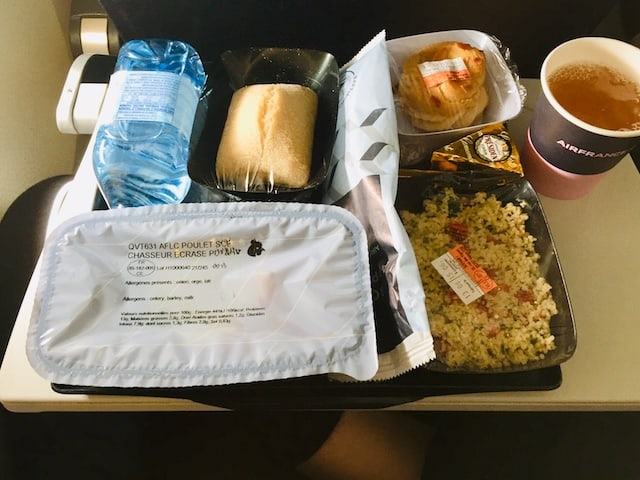 The airline served a full meal on board: chicken, some kind of green vegetable, mashed potatoes, couscous, and the standard bread-cheese-and-butter combination, which I would save for my next-day breakfast.
Seven short hours later, we landed at JFK and underwent one of the slower de-boarding processes I had ever experienced, even with a nearly empty aircraft.
Seven short hours later, we landed at JFK and underwent one of the slower de-boarding processes I had ever experienced, even with a nearly empty aircraft. The flight crew dismissed us in waves, a process that was further decelerated by brief interviews that were held with each passenger just past the airplane's door. We were asked to complete a form indicating where we had been during the 14 days prior to arrival, where we would be staying in the United States, and whether we were experiencing any symptoms such as fever, cough, etc. Our temperatures were also scanned once again before we could proceed to border control, which was so empty that I wasn't sure if it was even open.
I coasted through the routine kiosks and desks for U.S. citizen and hurriedly searched for signs to the airport hotel shuttles. My next flight wasn't until 6 a.m. the next morning, so I had booked an airport-adjacent hotel room for the bare bones: shower, sleep, and a dinner starring my second pre-made sandwich. 
An overnight stay in a hotel was yet another trepidatious choice I had made when booking this travel. I had messaged the hotel back and forth the weeks leading up to my stay, inquiring about their sanitation standards and closely reading reviews from guests who had stayed there in the past few weeks. With my disinfecting wipes in tow, I ensured that even if the hotel had followed their standards—and then some—I would have at least some semblance of control over the presence of germs in my environment.
A long row of American flags in the terminal reminded me where I was, and the sight of travelers in bandanas also snapped my confusion into focus.
At 4:15 a.m. the next day, I was down in the lobby with four others, waiting for the 4:30 shuttle back to JFK for our pre-dawn flights. A second round of socially distanced security with the dozens of other travelers who spoke both English and Spanish had my jet-lagged brain confused about my location. A long row of American flags in the terminal reminded me where I was, and the sight of travelers in bandanas also snapped my confusion into focus.
It seemed as though any kind of "face covering" was acceptable in the States, contrary to the mask mandate I had experienced in Europe. Such face coverings apparently included include bandanas, t-shirts, or any other kind of cloth that covers the nose and mouth, or sometimes just across the mouth. The bottom portion of faces were covered this way but also open to air, leading me to wonder about their efficacy in preventing germs from skirting out beneath the loosely covered bottom of the unadhered fabric.
But it would get worse.
I approached my gate and immediately noticed the differences in the waiting area, like a puzzle from the games page of a magazine or newspaper, prompting readers to circle what's different in a set of two images that seem similar but are strikingly different upon closer inspection: There were no markings indicating that travelers must allow the seat between them to remain empty; a bumper-to-bumper line of passengers had already formed leading up to the gate, with very little space between each person; and there was no temperature scanner at the boarding gate, as I had seen in Barcelona and Paris. It looked like any other boarding area of any other flight, pre-pandemic. But it would get worse.
I stepped into the line, using my rolling carry-on luggage as a nonverbal cue to the person behind to maintain adequate distance. Rolling up to the plane door, I noticed the flight attendant who was greeting each passenger was not wearing a mask, and as I turned to face the rows of seats, I started to calmly panic: The flight was nearly full.
The flight was nearly full.
I found my pre-selected window seat about halfway into the plane, excusing myself to the occupants of the middle and aisle seats who had to vacate their seats so I could shimmy past them. With as much space as I was allowed, I performed my pre-flight cleaning duties, and the pre-teenage girl next to me followed suit with her cylinder of Clorox wipes. I smiled and felt pride knowing that the two of us were doing our best in fighting the spread of COVID-19, together.
As we ascended and started flying south, I wondered how many people on this completely full flight felt comfortable and safe. I was thankful for the fact that my first two flights had quelled any sort of pandemic-related travel anxiety, but without those flights on the previous day, this full flight might have sent me into a tailspin of rightful terror. Whatever serenity I had mustered for this flight would be knocked off course upon stepping foot in Charlotte Douglas International Airport.
I exited the bridge into the terminal at Charlotte and, compared to the other airports I had been to in the previous 24 hours, it felt like a swarm of people had materialized out of nowhere. I was transported to the main hall in New York's Grand Central Station at 5:30 p.m. on a weeknight. People rushed about, passed each other on the moving sidewalks, and in passing through three terminals, I surmised that approximately 50 percent of people were not wearing masks, including a few pilots.
Walking around the airport, past the Starbucks with a line of back-to-back people, there were very few indicators that a pandemic was happening, and for the first time in months, I felt fear. But I also felt genuine curiosity. Why aren't people wearing masks? Why isn't social distancing being enforced? What is going on inside these minds? What information have they been exposed to? I sincerely wanted to know these things, so much that I almost stopped people to ask them but instead kept my distance and just observed, as though I was visiting a foreign country (or planet) and was simply watching the natives go about their lives.
What information have they been exposed to?
These observations didn't make me question my own decisions, but they did make me more inquisitive about the American psyche during this moment in history. I was American, but I hadn't lived in the States for nearly 7 years. I hadn't paid much attention to pop culture, I voluntarily had little exposure to or desire to keep up with the news (other than the big stories that are impossible to escape), and I felt naïve to think that Americans at this airport in North Carolina would react to the pandemic so listlessly.
This perplexity stayed with me as I took my final flight from Charlotte to Norfolk, Va., rode in the backseat of my dad's car from Virginia back down into North Carolina, and visited a southern American supermarket for the first time wherein, again, about half of the shoppers were masked.
All these sights and scenes and thoughts reconfirmed to me that although this virus was afflicting humanity on a global scale, it was up to each individual to determine how he or she would react to it. But this isn't an individual disease. Our behaviors also affect also the people we surround ourselves with. And based on visual evidence I gathered from five airports in three different countries on two different continents in a matter of two days, it was clear that this virus wasn't going anywhere anytime soon.
Photo credits for Four Flights in a Pandemic by Allie Moore.