Eusko Guide with Blogger Patricia Palacios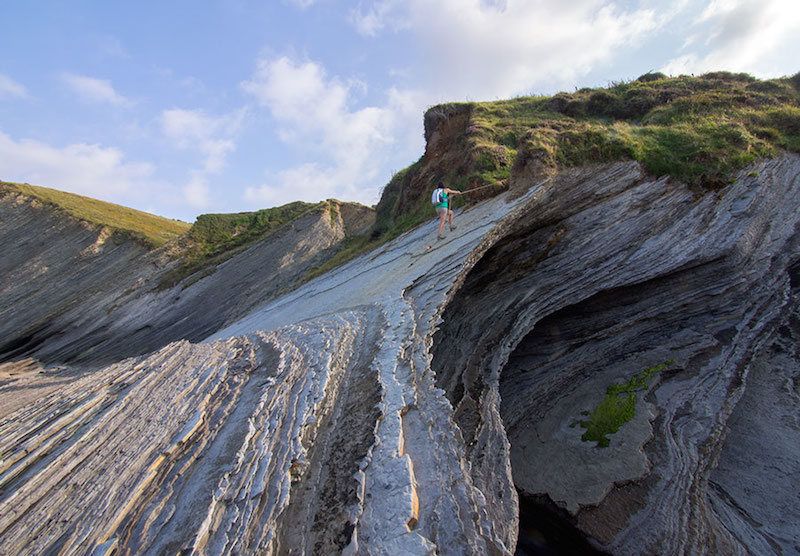 Patricia Palacios shares how her love of the Basque Country led her to launch Eusko Guide, and her tips for travel blogging success.
Tell us about yourself! What do you do when you're not traveling the world? Where are you from? Where do you currently live?
My name is Patricia Palacios and I was born and raised in Vitoria-Gasteiz, the capital of the Spanish Basque Country. I discovered my passion for traveling when I jumped in a plane for the first time at 16. I am currently living in Berlin, Germany, but planning to leave the city behind and continue traveling the world very soon. When I am not traveling, I love to spend time by the ocean practicing one of my latest hobbies, free-diving.
What first inspired you to start your blog? Since then, which destinations have you covered?
My travel blog and destination website, called Eusko Guide, is dedicated to the Basque Country region of northern Spain and southern France. It was founded due to my passion and love for the area. Although I was born and raised there, I didn't really learn to appreciate its uniqueness until I showed it to my husband. It was that first visit with him that inspired me to launch my website and blog.
Eusko Guide covers the Basque Country beyond the current political boundaries. That is, the Basque Country and Navarre provinces in Spain and the Basque Country area in France. Since the region is divided in three different administrative areas and two different countries, the lack of a unique source of information was a problem that I decided to solve myself. I created this website and blog as a source of information for people interested in visiting the Basque Country as a whole, whether its French or Spanish side, it doesn't matter.
Eusko Guide with Blogger Patricia Palacios.
What is the main purpose of your blog? Is there a message that you're trying to convey to your readers?
The main purpose of my blog is to share the special place where I come from, the Basque Country. As one of Europe's oldest and most culturally rich regions, it has a lot to offer visitors. I want people to plan a trip just to the Basque Country instead of adding a one day stay in Bilbao to their "Spain trip". There is a lot going on in such a small area and since it has not been so well known, people haven't been aware that it is even worth it to stay for more than a day or two. That is what I want to change because the region is more than worthy of being THE destination and not just a side or day trip.
From strong man competitions to jai alai (aka the fastest game in the world), from its pintxo culture to having one of the highest concentration of Michelin stars in the world, the Basque Country has something for every visitor and my goal is to make sure people know about it.
What gets you into the writing mode?
Although it may sound weird, what gets me into writing mode is actually looking at the photos I have taken of that place. My website is very photo based. I try to paint a picture with images, not only words. Since I have the photography background, when I have good photos, those inspire me to write about these wonderful places.
What are some exciting partnerships, connections, or opportunities that have come out of your blog?
Something that I love about my blog is the fact that I am also learning a lot about the place I come from! I am in touch with several tour guides in the region that have shown me some marvelous hidden places. I know people in the hotel and gastronomy businesses, etc. I am always making new connections and getting better at what I do, and that is the most exciting part!
I get invited a lot to special events, but often times I am not there to partaken them because I don't permanently live there. Occasionally I get free food and tickets, but that generally doesn't happen because I try to go in without people knowing who I am since I don't want to get some type of special treatment. I don't want those things to impact the content of my site. If someone wants to give me a free pintxo I will take it, of course, but that doesn't mean that I am going to write about how amazing it was if I didn't truly love it.
Is your blog a business? If so, what are some of the ways that you monetize it?
Eusko Guide started as a hobby years ago, but it is slowly turning into a business. Apart from the ads in the website and blog, I do also get commissions from my partners in the hotel, car rental and tourism industries.
What advice would you give to other women who are interested in launching a travel blog?
It is easy to start a blog, the difficult part is to maintain it and to offer something different from the thousands of travel blogs that are out there! Also you have to be willing to work for a long time knowing that you are not going to make any money for quite a while. If you want to be successful, make sure to differentiate yourself and find a niche. Be patient and work hard!
Photo for Eusko Guide with Blogger Patricia Palacios by Patricia Palacios.