Travel to Malta: The Real Deal with Kat Scicluna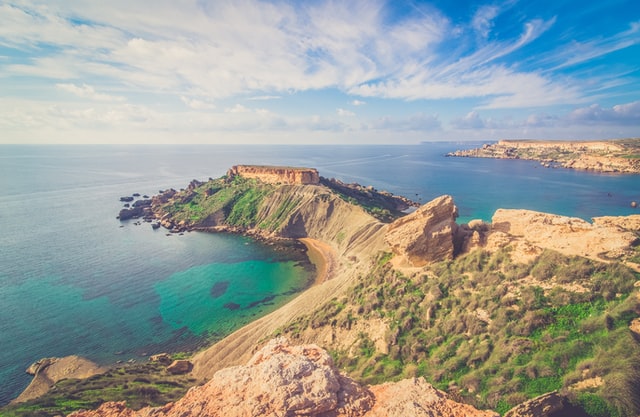 This month, we're interviewing women from all over the world and asking them about their experiences traveling to Malta. We had the privilege of speaking with Kat Scicluna about her experience traveling through Malta. Here's a glimpse into our conversation.
Tell us about yourself! What do you do when you're not traveling the world? Where do you live? What made you decide to go to your most recent destination?
I'm an actor and animal wrangler with a license in Equine Canine Sports Massage Therapy. I am born and raised in NYC so every travel adventure has a lot to live up to! My last work related trip was to Santa Monica (love the Japanese fusion sushi houses) and my last trip for pleasure was in Nice in the south of France where I climbed the cliffs by the sea and indulged in wine and art and croissants.
Outside of my work and leisure trips, I travel to the island of Malta where my family descends from.
How long did you go for? How did you spend your time?
Whenever I travel to Malta, I take at least a week. The flight is so long from the United States that anything less makes the plane time out of balance.
What were your most memorable experiences? What were the biggest disappointments?
Every night there seems to be some sort of festival or celebration to a saint of one kind or another. After a siesta, the people gather in promenades and socialize and celebrate. Some nights have fireworks and some have dancing. Some have live music. Some have all three!
What do you wish you knew before you went?
I have always been familiar with the Maltese culture but what I would suggest to others is a few things: bring your appetite and your walking shoes. You will need both as the dishes are incredible (surely try fenek stew – rabbit stew) and the sights are glorious (take the ferry from the main island of Malta to Gozo and quad/hike to the Azure Window near Dwerja).
Any favorite restaurants/hotels/hostels/sites you'd like to recommend? Tell us what made them great!
I would suggest visiting the cities of Rabat and Mdina. They are ancient and beautiful. Game of Thrones on HBO does establishing shots there for the show. On that same theme, you can visit Popeyes Village (the set was retained from the movie in which Robin Williams starred as the title character) on the main island of Malta. Go to fishing villages like Marsaxlokk for the freshest seafood fare.
Is there anything that women specifically should know before they travel to your destination?
You will need to drape bare skin when going into churches, out of respect for the culture.
Photo for Travel to Malta: The Real Deal with Kat Scicluna by Unsplash.