A Feminist's Guide to Washington DC Attractions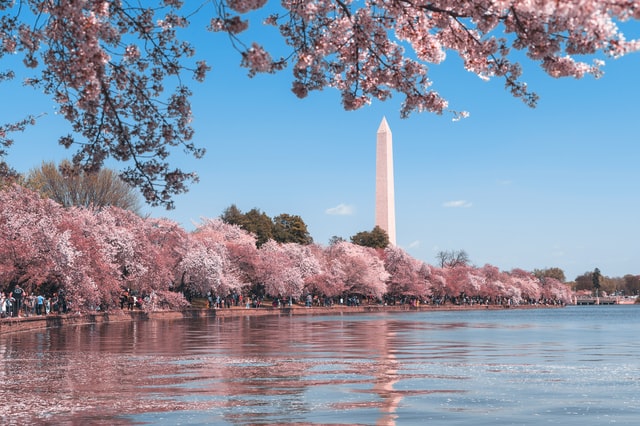 DC is a city close to my heart. I arrived intending just to attend college, but I stayed for nearly a decade. I truly grew up there, and all aspects of the city–from meetings at the White House to going out dancing with friends–made me the woman I am today. But the history of Washington DC is largely one built around men: statues of the US' founding fathers, streets and buildings named after men, and historic restaurants where you would only find a woman if she was serving the drinks.
However, if you look a bit closer you can actually find an incredible wealth of history, art, food, and more honoring the women of our nation's capitol. Two days is only just enough time to scratch the surface, but this guide to Washington DC attractions will help you navigate to some fascinating sites, restaurants and shops that are either run by women or that celebrate the women that make the USA great.
A Feminist's Guide to Washington DC Attractions
Day 1: Live it up
Start the day with breakfast from Baked and Wired: I'm in the camp that believes this shop has the best cupcakes anywhere in DC, thanks to owners Teresa and Tony Velazquez. Come for the cupcakes (unless you're one of those who feels cake is not an appropriate breakfast, and then you can come for their other yummy baked goods), but stay for Intelligentsia Coffee.
While nearby: Explore the beautiful cobblestone streets of Georgetown.
After breakfast, head along the tidal basin to see the Eleanor Roosevelt Monument. Even if you've seen monuments before, you might have missed this one. Come to honor the bold lady Roosevelt, stay to rub the head of the statue of her dog Fala.
After you've paid tribute to the US's first delegate to the UN, hop on the metro or a cab back into town and stop at the National Portrait Gallery: This is my favorite museum in the city. Come for the portraits of the female Supreme Court judges, stay to relax or eat in the Kogod Courtyard.
Finally, end your day with a well-deserved meal at Pizza Paradiso. Chef and owner Ruth Gresser brought wood-burning pizza ovens to DC, and the city has been forever grateful. Come for the thin crusts, stay for the plentiful beer.
While nearby: Head to a free daily show at the Kennedy Center if you're early enough. Otherwise, find a fun bar in the area and dance the night away.
Day 2: Live like a local
Start the day off inspired by making your way to the National Museum of Women in the Arts. This museum is the "only major museum in the world solely dedicated to recognizing women's creative contributions."
If you're young and hip (or wish you were) like the majority of DC residents, and are looking for a casual lunch, visit Union Market. This is a wide, open space with market and restaurant stalls, including many women-owned eateries.
While nearby: Visit the H St NE district, full of rapidly changing bars and restaurants. Head to H St Country Club to play a DC version of mini-golf.
Then, indulge in a little self-love. If you're not feeling exercised enough walking through DC's streets, head to Soul Cycle or Solidcore for the chance to work out alongside the First Lady (who has frequently been sighted at each).
Alternatively, do a little shopping. Some recommendations include:
Lou Lou: Originally opened an hour outside the District by Tara and Ben Wegdam, Lou Lou offers fashionable and affordable accessories. Browse their multiple locations throughout the city, and show people that people in DC can and do have style!
Miss Pixies: This vintage and furniture store helps keep DC a little funky. Pixie Windsor opened Miss Pixie's nearly 20 years ago and has been known for her bright pink storefront ever since. Everything is purchased from auction within 100 miles of their store. They'll even deliver in and out of DC!
Save a little money for an afternoon snack at Sticky Fingers Sweets & Eats. Founded by friends Doran Petersan and Kristen Rosenberg, Sticky Fingers is a vegan restaurant decorated like a 1950s diner, and offers all three meals plus dessert. Come to support your vegan friend, stay for their cupcakes (they've won the Food Network's Cupcake Wars multiple times).
While nearby: Head over to Meridian Pint to catch a game and a beer from nearly anywhere in America.
Finally, treat yourself to a fancy dinner at either:
Restaurant Nora: America's first certified organic restaurant. Owned by Nora Pouillon, an advocate for sustainability and progressive causes. Come for Washington elite sightings, stay for some of the freshest food around. While nearby: Have some pie at Kramerbooks, another DC institution.
Ripple: Marjorie Meek-Bradley, Ripple's Executive Chef, has won awards left and right for her clean and innovative recipes. Come for the wine, stay for the grilled cheese bar. While nearby: Check out Bei Bei, the baby panda, at the National Zoo (if it's still open!)
A Feminist's Guide to Washington DC Attractions
Related Reading
Have you traveled to Washington DC? What were your impressions? Email us at [email protected]pinkpangea.com for information about sharing your experience and advice with the Pink Pangea community. We can't wait to hear from you!
A Feminist's Guide to Washington DC Attractions photo credit: unsplash.