How to Stay in Norway on a Budget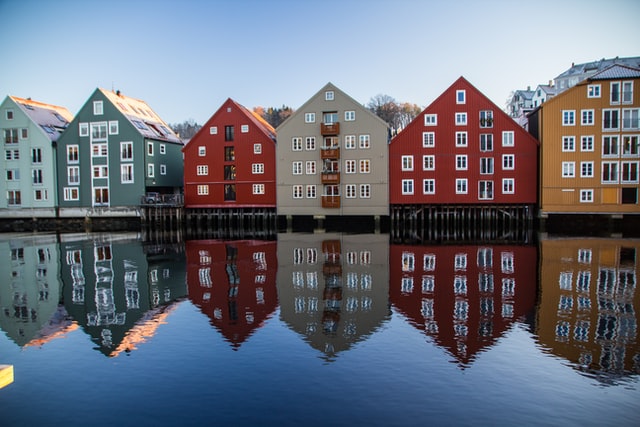 Norway is not the first place that comes to mind for the budget-minded traveler. It's notoriously expensive, and a croissant might cost you as much as a full meal back home. However, it's also one of the most visually stunning, ripe-for-outdoor-adventure destinations in the world, and it will be well worth every dollar you spend there. So how do you stretch your money and have the longest trip you can afford? It's all about the accommodation. Here is how to stay in Norway on a budget.
How to Stay in Norway on a Budget
Free Camp
Camping is the cheapest way to stay in Norway. You can pitch camp on farmland, in forests, and in national parks free of charge, as long as you observe some guidelines. Camping will only cost you the price of your equipment, and you'll want to bring as much of that with you as you can, as buying it in Norway will be costly. Stuff the following into your waterproof backpack:
Tent with high quality rain flap.
Reliable camp stove
Inflatable tub for washing dishes. (No washing in the fjords!)
Lots of layers. Even in summer it gets very cold at night. Fleece-lined anything is your best friend.
Waterproof pants and jacket
Warm sleeping bag
Sleeping pad
Skin for water (refill at a tap – no need for bottled!)
Cheap, protein-filled foods
Gas and lighters can be easily purchased when you land, at a store like Sportsnett. Don't wait until you're in a tiny village to try and find cheap food; stock up before you leave the city.
There are of course some considerations for free camping. First, do it in spring or summer. Winters are treacherous. Second, bring some friends! Norway is incredibly safe, but since the terrain is challenging, you may not want to risk an injury while out in the mountains. Bringing friends will mean help in case of an emergency, and they can help you carry food!
Free camping will allow you to experience the remote beauty of Norway in a way no other accommodation option can give you. If you pitch your tent near the fjords, you'll even hear porpoises and sea otters as you drift off to sleep, plus the night sky is incredible without any light pollution. You'll be able to stay well away from the cruise boat crowds that descend upon the tiny villages like swarms of locusts. And your equipment will quickly pay for itself, given what you'll save on hotels. It will also make you more flexible. If a bus doesn't show up or the train can't take you to your next destination, you don't have to worry about losing out on your reservation: your home is on your back!
Campgrounds
Many towns have a campground, but they fill up fast. Most campgrounds offer efficiency cabins that cost between $40 and $70 a night, but if you're lucky you'll get a "tent with a bed in it." Don't be alarmed; even though the receptionist might turn up his or her nose when they say this, selling it as a last resort, a '"tent with a bed in it" is actually a caravan! I stayed in one in Geiranger for several nights at $55 a day. It even had a working stove, but not a working toilet! Do NOT use a caravan toilet unless told explicitly otherwise. They usually aren't hooked up to handle waste.
Hostels
Some villages and towns have a hostel, but not all do, and some book up months in advance. If you're planning to stay in one, book about six months out. A hostel stay can range anywhere from $20 for a bed in a large dorm to $50 for a private room. I found a tiny private room in the Flam Hostel for $40 a night.
You'll find the hostels clean and cozy, with nice spacious common areas and lots of outdoor spots for bonfires. Some even feature food trucks for cheap eating. The best websites for booking hostels in Norway are the same ones we might use for booking in the US or Europe: Hosteling International and the Youth Hostel Association.
Micro Hotels
Available in the cities (Oslo and Bergen), these are places like City Box that offer tiny 'affordable' rooms. There's usually ample space, so take some time to scope out deals and sales. My stay at the City Box Oslo was $90 per night, on sale, for a room the width of the twin bed.
Eco-Hotels
These are not cheap, but if you're looking to treat yourself after a long hike or kayaking trip, they can be well worth the splurge just for the ultra-modern design and distinct Scandinavian style. The best of the bunch is The Hotel Juvet, the setting for the sci-fi thriller Ex Machina. It costs $160 for the smallest room, The Bird's Nest, built for one and all glass in the front so you can enjoy the most beautiful view you'll ever awaken to.
Photo for How to Stay in Norway on a Budget by Unsplash.