Traveling with Cats: In Conversation with Anneke van den Broek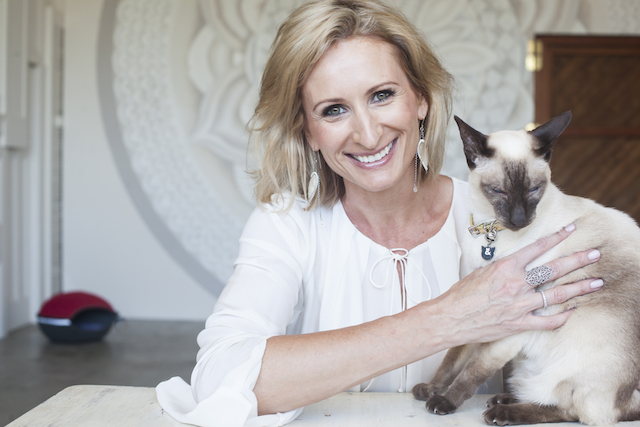 Australia's strict quarantine laws make traveling with cats overseas too difficult, but Anneke takes her cats on family holidays around Australia instead
Traveling with Cats: In Conversation with Anneke van den Broek
Tell us about yourself! What do you do when you're not traveling the world? Where are some of the places you've traveled with your pet?
I am the CEO and founder of Rufus & Coco – Australia's fastest growing and most awarded pet brand. Our products are sold online as well as in Australia, Singapore, New Zealand, the UK and North America. I am also the mum of two children, Saskia (8) and Saxon (7) and we live in Sydney.
During my lifetime, I have had more than 40 pets. I currently own two cats – Kiska, a 12 year old chocolate point Siamese, and Mischa, a 10 year old lilac point Siamese. As Australia has very strict quarantine laws, I have been unable to take any of my pets overseas. However, I have taken them to various parts of Australia and we often go to our holiday home on the south coast.
What was the process like for taking your pet on your travels? What did the destination require you to do?
My cats are well trained and don't mind travelling now, but in the beginning, I noticed they did fret. This got me to thinking about how we can make the travel ordeal more comfortable for them and for me. The team at Rufus & Coco then developed a product called Anxiety Aid that helped Kiska and Mischa calm down. We also recently designed a pet pod which is functional yet beautiful bedding for pets who travel – both products are suitable for dogs and cats.
What were the expenses associated with taking your pet on your travels?
When I travel in New South Wales I generally take them in my car. If I go further afield I use a reputable pet transport company, like Jet Pets, and I also book pet-friendly accommodation.
What sorts of obstacles, if any, did you run into?
Apart from the restrictions of travelling overseas, travelling with pets needs to be planned in advance both for their safety and comfort but also for your own peace of mind. I do a lot of research before I travel to ensure I go to places that will accept my fur babies.
Traveling with Cats: In Conversation with Anneke van den Broek.
What are some tips you'd give to others interested in traveling with their pets?
Plan ahead. Be sure you have a good enclosed carrier to make them feel secure. If you are driving, make sure the carrier is fastened with a seat belt attachment. Don't overfeed them before the trip. Make sure they have plenty of water. Consider giving them a dose of anxiety relieving product like our Anxiety Aid – but check with your vet first. In their carrier, make sure you put a blanket or toy that they are familiar with and that has your scent on it.
Is there anything else you'd like to share about your experiences?
Once I drove four cats, a dog, a lizard and my two kids to our holiday home in the south coast. It was like Noah's Ark on wheels. It was a little noisy but we had a lot of fun. Pets make everything fun. And, with the right planning, they make perfect travel companions.
Photo by Anneke van den Broek.