The Attraction of Wales: In Conversation with Suzanne Bujara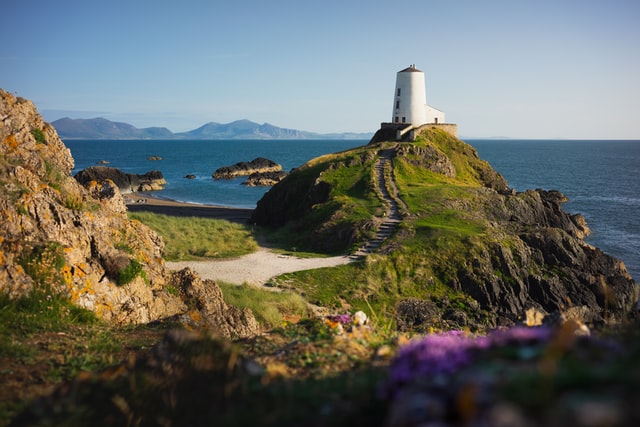 Suzanne has spent a lifetime returning to Wales. Find out what appeals to her so much about this tiny country.
Tell us about yourself! What do you do when you're not traveling the world? Where do you live? What made you decide to go to your most recent destination?
I'm a medical editor/writer based in Northern New Jersey.
I've been to Wales a few times. In 1983, my high school marching band, the Clifton (NJ) Mustang Band, was invited to perform in a parade in Aberystwyth and we stayed at the University on the hillside. We took a side trip to Caernarfon Castle, the site of Prince Charles' investiture. In 1986 and 2001, I returned to Aberystwyth with a Welsh friend from Shrewsbury, England for a day at the seaside.
In 2001, when I traveled with my husband and our same Welsh friend, we visited Portmeirion, home of the village featured in the 1960s series The Prisoner. We were just day visitors to the village, an unforgettable experience, but there is a hotel and cottages for rent on the property. It's a place I would return to in a heartbeat! There's also a china pattern with the same name.
What were your most memorable experiences? What were the biggest disappointments?
For fans of narrow gauge railways (some with open coaches), there are several tourist lines in Wales: Ffestiniog Railway in Porthmadog, Welshpool, and Aberystwyth incline railway.
Other memorable experiences: Discovering Wales for the first time in 1983 was a magical experience. It was the first time I was in a country where I could not decipher the written language, though it uses the Latin alphabet. The sound is unlike anything I'd ever heard before. Nothing is spelled phonetically. For example, the name for Wales is Cymru, pronounced KUM-ree.
When I visited Portmeirion, I felt like I stepped into a dream as the buildings are scaled down inside, but appear normal sized from the outside. The gardens were spectacular. This place should be on many bucket lists because of its unique architecture and location on an estuary.
Disappointing: Nothing in Wales disappointed me. Traveling by car or bus is probably the only way to see the small villages. The country is hilly, so much of the travel is on windy, 2-lane roads.
What do you wish you knew before you went?
More Welsh! Hint: Double LL at the start of a word is not pronounced with anything like an "L" sound. It seems that the farther north you travel in Wales, the more Welsh you hear. Also, the Welsh love to sing.
Luckily, my Welsh friend accompanied us on subsequent trips after 1983, so she was able to translate and offer some great stories and history of the places we visited. For example, we visited the town with the world's longest name, Llanfairpwllgwyngyllgogerychwyrndrobwyllllantysiliogogogoch (Llanfair PG for short!) and my friend was able to pronounce it several times!
The Attraction of Wales: In Conversation with Suzanne Bujara.
Any favorite restaurants/hotels/hostels/sites you'd like to recommend? Tell us what made them great!
See above for Portmeirion. Loved our short visit to this unique village with a hotel, restaurants, and shops! I never visited any place quite like it!
Is there anything that women specifically should know before they travel to your destination?
Leave the stilettos at home, ladies! The walkways in the seaside towns (like Aberystwyth) can be quite steep. Also, budget more time than you think when traveling by car as the roads are narrow and windy.