On Welsh Castles and Cuisine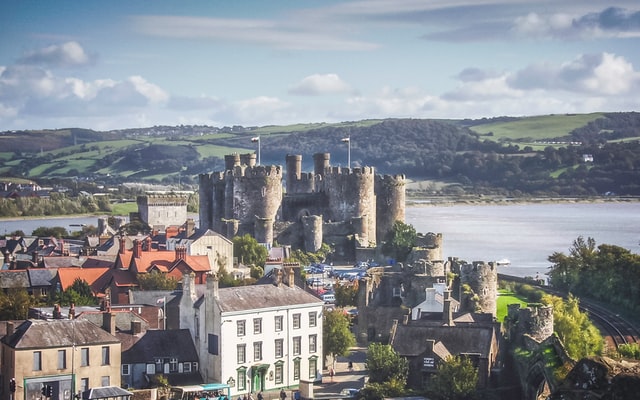 Planning a trip to Wales? Here are the highlights of Katie's week in Wales — and what she wishes she knew about Welsh castles and Welsh cuisine before she went!
Tell us about yourself! What do you do when you're not traveling the world? Where do you live? What made you decide to go to Wales?
I'm the content marketing manager for a travel planning site called TripCreator. TripCreator is an interactive travel planner that suggests a fully customizable itinerary based on the user's preferences. While the company is based in Iceland (my favorite place), I live in San Francisco. I was in Wales in March of 2015.
How long did you go for? How did you spend your time?
I was in Wales for one week. I started in Cardiff and then made my way around the countryside, stopping to visit several castles, explore some of the coastal path, check out tiny Welsh towns, and try some delicious Welsh food and drink, like Welsh cheese, rarebit, and even Welsh wine.
What were your most memorable experiences? What were the biggest disappointments?
Visiting Cardiff Castle was a highlight. Built over the centuries, it's now a mix of styles from Roman to Victorian. My favorite room was the Arab Room (also known as the Harem Room) which has beautiful hand-tiled mosaics and gold-leaf paint–the tour guide said it would cost more than $10 million to create the room today.
I also really enjoyed the small towns along the coast. The countryside and the coast of Wales is beautiful and each town was charming in its own way. There's also so much history there and the people are very friendly and welcoming.
What do you wish you knew before you went?
I wish I had watched more Doctor Who, the BBC show about the time-traveling "Doctor." The Doctor Who Experience in Cardiff is an interactive experience that's fun even if you aren't a huge fan of the show, but it's much better if you have a basic grasp of the show's plot and main characters.
Any favorite restaurants/hotels/hostels/sites you'd like to recommend? Tell us what made them great!
In Cardiff, Park Plaza Hotel is a great hotel in the center of the city and just a short walk to the Cardiff Castle. Chapel 1877, a restaurant set in a Gothic-style former chapel, offers modern cuisine with a focus on traditional Welsh ingredients.
Outside of the city, I loved the twee little town of Llandeilo, dotted with colorful houses and woolen goods shops, and Carreg Cennen Castle, a 12th-century castle that's been in ruins since 1462. It's up on a hill, surrounded by green hills dotted with sheep and looks like a perfect postcard of Wales.
Is there anything that women specifically should know before they travel to your destination?
Just that the Welsh men tend to be very friendly–at least the ones I met! I felt very comfortable wandering around by myself, especially in the small towns.