What You Want to Know Before Going to an Indian Football Game
Earlier this month, I attended my first soccer match. Ever. It just happened to be in South India. Bangalore was playing Mumbai at the Sri Kanteerava Stadium. Fortunately, I packed a blue t-shirt, so I was able to sport my Bangalorean pride.
After arriving, I realized my seats didn't have chairs. They were just spots on the concrete ground, but at least I had a decent view of the game. The field itself was smaller than I had expected, and the crowd was fairly quiet! After visiting Europe last summer during the World Cup, I had expected rowdiness and noise, perhaps even arguments between fans. Sure, they were screaming fans waving flags, but nothing close to my expectations.
My friend and I, however, were the only women in these seats. This wasn't a surprise, as it's not uncommon for men to outnumber women in public in India, which can sometimes be uncomfortable. This is even the case at my favorite bars in the city. Though it isn't uncommon for women to attend soccer games, they do tend to purchase the more expensive seats, or come with men. But I didn't feel unwelcome… until I tried to use the restroom.
My friend and I, however, were the only women in these seats.
I found the women's restroom, but it was locked. The men's room, however, was open. I asked a handful of stadium employees for an open ladies' toilet, but each directed me to a locked bathroom. I tried to explain that they were locked, but nobody cared, just repeated that they didn't have the key. They were not helpful at all.
Each would send me to the next gate to use that restroom. Of course, in each section I got déjà vu. Stadium employees, in unison, told me to "Go to the next gate." No one wanted to help. All of the employees I asked for help were men, and I didn't see any women who worked for the stadium.
My bladder was about to burst and I was starting to panic. I got desperate. I even considered finding a bush. Luckily, I was close to the administrative office. I asked a security guard for the closest toilet and he admitted me to the restrooms in the VIP section. Finally I found a women's bathroom – unlocked, with the door wide open.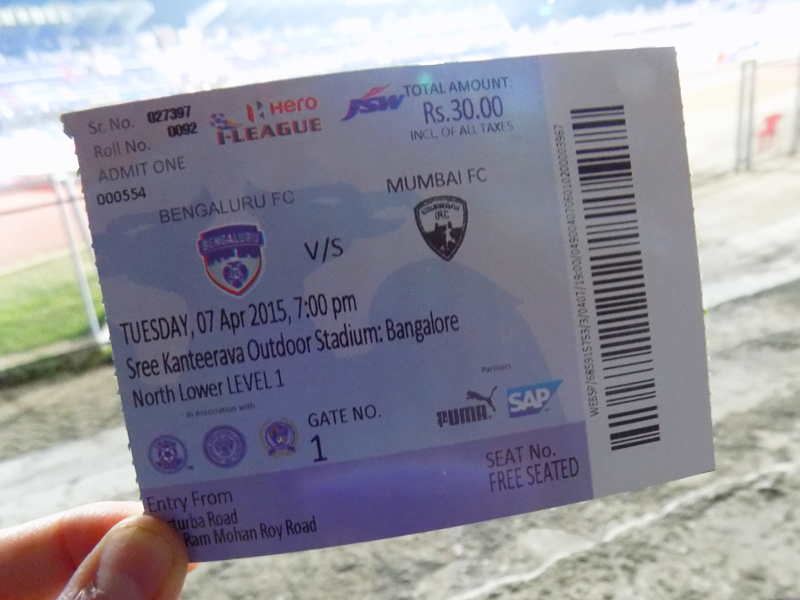 Going to an Indian Football Game? Use the Bathroom First
My advice to women in the fifty-cent seats is to use the bathroom before the game to spare the anxiety. For women with digestive disorders or a sensitive bladder, you're better off paying up.
Even after three months in India, I still struggle with some of the patriarchal dictates. To avoid unwanted attention, I need to keep my shoulders and legs covered in ninety-something degree heat. I'm advised against using any sort of public transportation after sundown. When I ask for directions on the street, sometimes men ignore my question or just stare at me. It's difficult to even cross the street as a woman.
I got desperate. I even considered finding a bush.
My trip to India has not been a negative experience. I'm more self-aware of my privilege than before. Of course, patriarchy can be seen everywhere: in the US, women earn 81 cents to the man's dollar. I've been catcalled walking down the street in Prague. In many parts of the world, if a woman is raped, it's considered her fault.
However, I have freedoms that women in India do not. I have the freedom to wear what I want. I have the freedom to decide who I want to marry, if I want to marry at all. I have the freedom to decide if I want to have children. These freedoms were not so apparent before I came to India and saw many women who do not have these freedoms.
(Tip: A week before the game, I bought tickets to the soccer online through In.BookMyShow.com. This is a great site to use if you're looking for something to do in India. The tickets range from 30 to 1500 rupees, which is very cheap.) Photo by Danielle C.