Bali Travel Tips: Kaitlin's Take on Health, Safety and Romance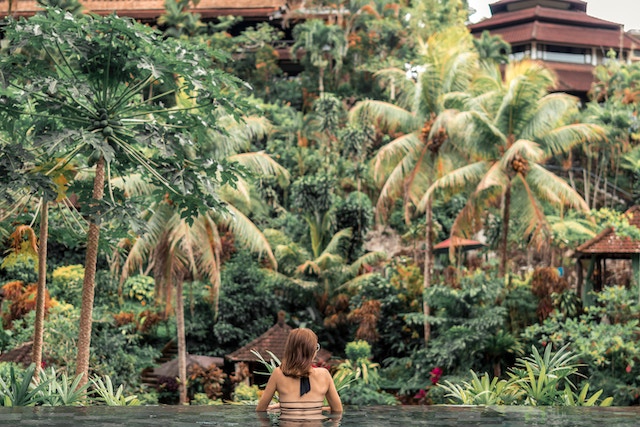 Are you traveling to Bali? Kaitlin Emmons presents her travel tips about health, romance, women's rights and safety:
Bali Travel Tips: Travel Health Information
Feminine Hygienic Products in Bali: What's available/what's legal/where to buy them?
Bring a lifetime supply of tampons as they are very difficult to find on the island of Bali. They are also often very expensive. Balinese women generally use pads, which are available for purchase at any grocery or convenience store.
Birth Control in Bali: What's available/what's legal/where to buy them?
Condoms are sold in grocery and convenience stores. Birth control pills are available at the chemist, but the selection varies and brands may be inconsistent. The morning-after pill is also sold at the chemist.
Gynecologists in Bali: Are there any that you recommend?
At the BIMC International Hospital it is possible make an appointment with a specialist. Kim Patra is well known Australian gynecologist who is located in Sanur at the Community Health Care Bali.
Breastfeeding in Bali: What are accepted places for women to breastfeed? Is it accepted to do so in public?
It is acceptable to breastfeed in public in Bali. As a foreigner you are more likely to be stared at if breastfeeding uncovered. It is similar to the blatant staring and attention you receive as a foreigner at the beach.
Bali Travel Tips: Romance
Dating Locals in Bali: What are the norms and traditions? What should women look out for?
This information has been collected after several chats with friends who are in relationships with locals. Birthdays, marriage, loyalty and religion are all topics that came up during discussions.
To many Balinese men, birthdays are not a big deal. Cheating is rampant. It is not uncommon for a man to have a wife/girlfriend back in his village and/or a relationship with someone else overseas. In the long term, the woman is expected to convert to the man's religion. The two main religions in Bali being Hinduism and Islam. Marriage and children are of the greatest importance in Bali.
In order to participate in Balinese ceremonies, it is expected that you and your partner are married.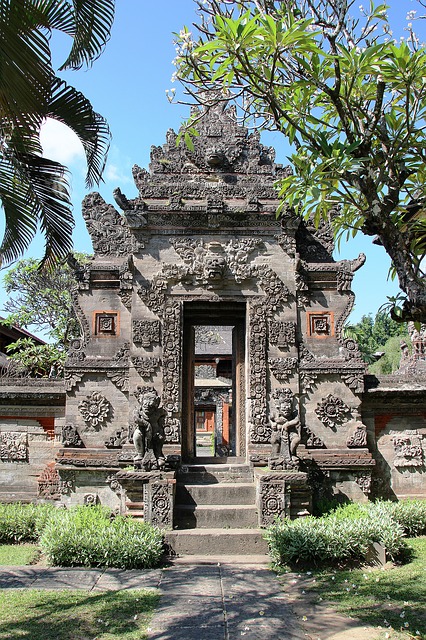 Men in Bali
It is difficult to describe "typical" types of Balinese men as there are always exceptions.  It's also unfair to lump a massive group of people into a general stereotype. As with any place in the world ,there is a diverse population that consists of the good and the bad.
In Kuta, the 'beach boys' and the 'Kuta cowboys' have made an infamous reputation for themselves of chasing and wooing tourists on and off the beach. I was introduced to the ways of these cheeky fellas during my first surf lesson. After twenty minutes of 'you are so beautiful' and 'you are my most favorite surfer girl ever', my instructor laid a big smooch on my cheek. Caught completely off guard I yelled "HEY! No kissing!"
He sheepishly goes, "okay, okay". Next wave I caught was met with another attempt, this time straight for the mouth. Everyone in the water at the time looked over and laughed when I stiff armed him and yelled "WHAT DID I SAY ABOUT KISSING!?" I didn't feel threatened, since I am larger than most Balinese men, but his persistence was hilariously irritating.
Is Bali LGBTQ-friendly?
LGBTQ orientations are slowly becoming more accepted on the island of Bali, but is unfortunately still thought of as unnatural. Tourist areas are more open and there are a few gay bars in Seminyak, which are amazing. Outside of the tourist hub, acceptance of LGBTQ people diminishes and becomes significantly more taboo.
Bali Travel Tips: Women's Place in Society
Women's Rights in Bali: Do women have the same position in society as men? How can you tell?
Bali has an unofficial patriarchal system, where women and men play different roles in society. As always, there are exceptions, but women usually make the offerings, cook and go to the market. If a couple gets divorced, the father or the father's family gets the children. The ancient social order of the Balinese Hindu caste system exists, and determines the manner in which you address an individual.
Local Women in Bali: What are some clear cultural differences between you and them?
Balinese women tend to be very modest and reserved. Indonesians are not confrontational and are very passive. Women tend to join in social activities like going to the mall or the cinema They often refrain from going out on the town for a wild night of drinking. Women don't usually drive cars, and when on a motorbike with a man, the man usually drives.
But as stated before, exceptions do exist. My mind was rocked when I passed a local woman on Nusa Penida. who was driving a motorbike one handed, not wearing a helmet, and breastfeeding a tiny infant. It was by far the most badass thing I've ever seen.
Women-Specific Environments in Bali: Are there places where only women are or are not allowed?
Generally, women are not allowed to participate in cock fighting or gambling. Women are also not allowed in temples when they are menstruating.
Perception of Foreign Women in Bali: How do local men/women react to you when you say where you're from?
More independent. Freer, looser and more active are all descriptions I received when I asked several locals about how they perceive foreign women. Australian, European and American women are perceived as more liberal, while Asian women are perceived as more traditional.
People were usually really confused when I told them that I am from the United States. It took a few attempts of rewording until it clicked, and then they would ask why I was so far away from home. It was cool being a rare species, as Bali is mostly overrun with Australians.
Bali Travel Tips: Safety
Transportation in Bali: Any that are safer/less safe for women to take?
There are several modes of transportation options in Bali. The quickest and most efficient is renting your own motorbike. Traffic is usually horrendous. Horrendous. Having a motorbike will make your life much easier. If you don't feel comfortable driving a motorbike you can always negotiate a price for a ride with an Ojek.
Ojeks are motorcycle taxis that can be found everywhere. A significantly cheaper option if you have an Indonesian phone number is to download the GoJek app. Like an Uber for motorbikes, you put in the pick-up and drop-off location and can watch the driver on the map on the application.
I have taken both Ojeks and GoJeks home from the bar alone at night, and felt completely safe.
If motorbikes aren't your style you can catch a taxi just about anywhere. The most reliable company being Blue Bird. If you are going on a day trip or want to make multiple stops, hiring a private driver is extremely easy. It's a much better option than catching taxis all day. Uber is also available in Bali.
Note that there are no drop zones and Uber and Gojek are no longer allowed in Canggu. Sometimes you can get a ride there but make sure to organize other transportation back, as Uber and Gojek are strictly prohibited from this area.
Dangerous area/s in Bali: Any specifically for women?
As with most places it is dangerous to walk alone at night. You'll want to be careful on Legian Street.  They are often crowded and teeming with thieves. Exercise extreme caution when walking down Poppies Two.  A lot of minor but violent attacks occur here late at night.
Another tip — be very protective of your drink when out and about, as drink spiking is not uncommon. Err on the side of caution when indulging in arak, and make sure you know that it's safe before consuming. Don't forget to do your research on methanol poisoning.
Clothing in Bali: What to wear/what not to wear?
In the tourist hub of southern Bali there is an anything-goes type attitude. I've seen women in burqas and I've seen an old woman in a bikini cruising down Sunset Road on the back of a motorbike. Yes, really! Once you get out of the tourist area it is respectful to dress appropriately.
Indonesia is a very conservative country and you'll want to respect their cultural norms. When venturing on long trips on the motorbike, I would wrap a sarong around my legs and wear a shirt. I saved my bikini joy rides for home.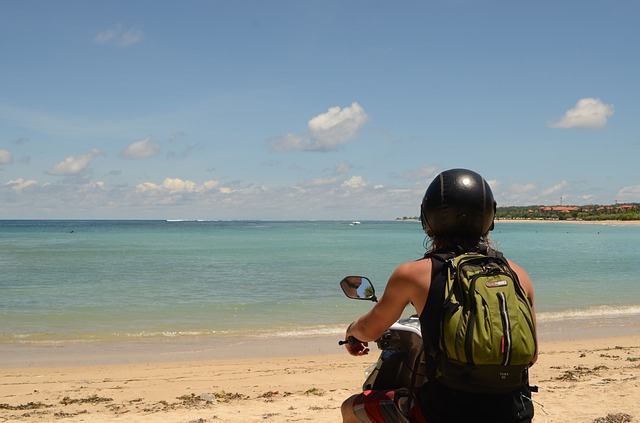 Bali Travel Tips: Kaitlin's Take on Health, Safety and Romance
"Bali time" is the slogan to adopt once you've realized the pace of life on the small Indonesian island is much slower than you're use to. The momentum at which things get accomplished could only put the American South to shame.
Everything gets completed, just in its own time and soon after making the adjustment, you'll find yourself getting into the rhythm while enjoying a slower pace of island life. Interested in experiencing the Balinese slow living lifestyle? Move away from the busy beaches and explore more of what the island has to offer:
5 Things to Do Beyond Bali Beaches
1. Culture
Bali has a deeply rich culture, but the idea of learning more by visiting a museum while on a tropical island is usually far from the minds of the beach goers. The Setia Darma House of Mask & Puppets will have you intrigued enough to fold up your beach chair and venture inside. Located just outside of Ubud, once arriving you'll find several Javanese style houses among a garden oasis.
Each house contained puppets and masks from all over the world–most were antiques and some dated back hundreds of years. A large portion are from Indonesia with a space devoted to the many masks used for Balinese dances, or Topeng. Originally a private collection, it was opened to the public in 2006 with the idea to educate others about the culture while preserving and promoting the art form.
2. Education
After tucking that bikini away in your luggage, seek out a more hands-on experience to get to know the Balinese religion. Puri Lukisan Museum in Ubud hosts a course on learning techniques of creating Balinese offerings. The offerings are those small, adorable creations often accompanied with incense that you'll almost nearly step on in doorways and sidewalks throughout town.
For a few hours in the morning you can learn from a patient teacher, the art of forming palm leaves into a religious offering and how complex the design, even with its simplistic beauty. If working leaves and flowers into nature's origami isn't your thing, there are other cultural classes and instructions the museum offers. Be sure to get there early before your course so you can see the modern Balinese artistry throughout the museum's four buildings.
3. Zen
After the runaway success of Eat, Pray, Love, readers came to Bali wanting to experience the island and tap into their spiritual side. Central Bali in particular has a centripetal force, pulling you in to the world of holistic practitioners, yoga studios, organic and local food choices and it slowly has become the epicenter for expat living.
Once you've taken in the arts and culture that Ubud provides, Bali is a perfect location for immersing yourself in a yoga retreat or silent meditation. Bali Silent Retreat for me offered a sprinkling of all things us soul seekers are looking for, eco friendly lodging, healthy farm to table meals alongside yoga sessions and mindful meditation with the rice fields as a backdrop.

4. Religion
Bali practices a form of Hinduism all its own so a tour of some of the bigger temples is a wonderful way to begin to understand its complex religion. It's said that Bali has more temples than homes, however many of the thousands of religious structures are shrines rather than a Pura. Tanah Lot and Uluwatu are two of the more famous temples, both easily accessible from any of the southern beach towns and two of the nine key directional temples said to protect the island from evil spirits.
More centrally located in Tabanan, there is another key temple, Batukaru. Tucked along the side of Bali's second highest volcano, the sacred site has some stunning views of the surrounding jungle landscape.
Many Balinese pilgrimage here and there are several parts of the temple that are not open to tourists, however the spaces you can explore are peaceful with the forest vista providing a serene religious location closely tied in with nature.
5.  Fit
In talking with some of our drivers I found a common pattern, that they all were avid Badminton players. I wasn't sure that this could be a coincidence that all Balinese taxi drivers like Badminton, but after some investigation I found out that Indonesians love the sport. We convinced our driver to let us go to his village and spectate one of his games; surprisingly he obliged.
Aside from high school gym class in America, I haven't seen much of the sport. You can easily check out or participate in a pick up game in any small town, or like tennis, check out the pros at an Indonesian Open or national team game. Brush up on the rules and regs however. I'll admit we left our match not knowing the final score or which team was the victor. But we enjoyed cheering from the sidelines as the birdies went whizzing back and forth across the net.
Finding a deeper appreciation for Bali makes it easy to see why so many people come for a visit and find it hard to leave. Between the sports enthusiasts, silent meditations, unmasking culture and finding religion, the Bali beyond its beaches will leave you wanting to stay and uncover more.
Bali Travel Tips: Kaitlin's Take on Health, Safety and Romance
Related Reading
Travel Bali: A Conversation with Elen Turner
48 Hours in Bali for Every Type of Traveler
4 Bali Scams You'll Want to Avoid
Bali Travel: A Conversation with Kaytia King
Travel to Bali: A Conversation with Teri Potts
Travel Bali: A Conversation with Lauren Jarman
Ubud, Bali: Where Art Meets Worship
Living in Indonesia: Beyond the 'Eat Pray Love' Destination
Bali Silent Retreat: An Exercise in Unwinding
5 Things to Do Beyond Bali Beaches
Beyond the Tourist Trap: Following the Music in Bali
Have you traveled to Bali, Indonesia? What were your impressions? Email us at [email protected] for information about sharing your experience and advice with the Pink Pangea community. We can't wait to hear from you!